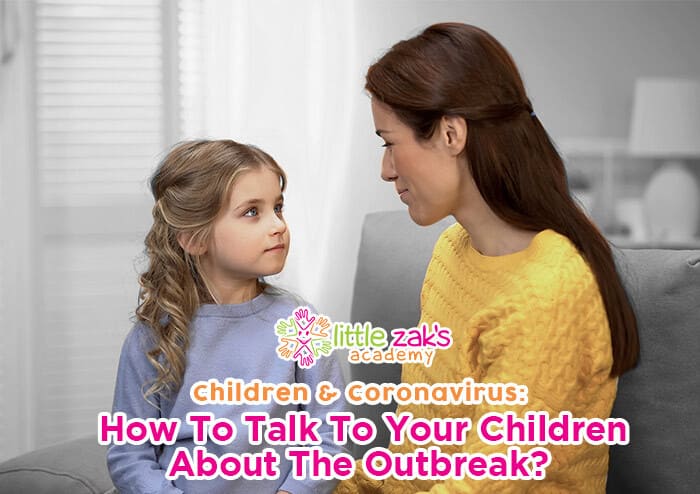 It is a tough time for all of us, we are all in this together. All races and nations are struggling with the evolving situation and how quickly things are changing, and the changes we must implement to stay safe. Since it's easy to feel overwhelmed by the news and dynamic environment, while hoping for the best, it's important to remember that children don't understand the bigger picture. They could easily feel more anxious, as their habits and daily routine have changed, they are doing less activities, and perhaps their eating and sleeping habits have changed too.
Your child might find it difficult to interpret what is being discussed or mentioned on TV, and many children are getting more prone to anxiety, stress, and sadness. As a leading childcare service provider in Sydney, we have put together some tips to help comfort and protect children by enabling carers to have an open, supportive discussion with their children to help them understand, cope and even make a positive contribution for others.
Converse

Initiate the conversation with your children and let them talk freely about any issues, which would give you an indication on how much they already know, and in in turn you can start the conversation. When you plan to do this, make sure the environment is inviting, for example do it while drawing or telling stories. Depending on their age, they might have not already heard about the virus if they are too young, in which case there is no need to raise the issue, however you can always ask them to practice good hygiene without having to introduce any fears.

However, you don't need to discount their concerns if they are already showing any, children's feelings must be acknowledged at all times, since they will need to be reassured that their sense of anxiety or fear is a normal feeling that they should not be shy to show. It is very important to show full attention to what they say without any other distractions such as news on TV or mobile phones.

While all children have a right to honest information about what is happening in the world, it's our responsibility as adults as well as childcare service providers to keep them safe from distress.
Be honest & child-friendly

When talking to children, make sure you are using age-appropriate language when discussing sensitive topics, and you should always watch to interpret their reactions and be extra cautious to their level of anxiety.

If you cannot find the right answers, seek help, or use the opportunity to explore the answers together through child-friendly resources such as UNICEF, while reminding them that not all the information found on the web is 100% accurate.
Tell them how to protect themselves and their community

Always remember to follow best hygiene practices, including regular handwashing. This is a regular practice, however during this time it is more important than ever, but do not make it a scary conversation. Also tell them how to cover a cough or a sneeze with their elbow, and how to maintain social distancing measures (especially with those who are showing symptoms). Encourage them to follow these measures and to talk to you as soon as they start feeling any flu symptoms. Remind them that these include fever, cough or having difficulty breathing.
Reassurance

Children would not be able to distinguish what they see on TV or overhear to what is actually happening in their city or local area, so it is important to let them know that they are not in danger. Especially with the outbreak being contained in Sydney, so there is no imminent danger and there is no need to panic. Talk to them about how many people had the virus but did not get extremely sick, and that many older people are working hard to keep them safe, so that they always feel looked after.

As a carer, it is a good idea to maintain activities that help children cope with the stress, such as playing and going outdoors if it is safe to do so.  Try and maintain their regular routines and schedules as much as possible, especially before they go to sleep, unless it is not safe, then you should work on creating a new routine to fit the new situation. Acknowledge the fact that the new normal could sound boring for now, but it did help keep the community safe, including their family and friends in the childcare or school.
Stigma

Unfortunately, the pandemic has involved numerous reports of racial discrimination around the world, and in a multicultural environment like Australia, it is very important to check that your children are neither experiencing nor contributing to bullying.

Check if they are experiencing or spreading stigma relating to the virus being related to how someone looks like or where they are from, and encourage them to tell you if they are being bullied at school, and watch out for any behavioural changes relating to how they feel about their childcare or school.

Remind your child that bullying is always wrong, and we should always do our part to spread kindness and support each other.
Positivity

Talk to your kids about how great the health workers and our front liners have been, and all those who are working to stop the virus from spreading further in our community.

Remember to also look after yourself, as you will be able to help your kids better if you are coping, too. If you are watching the news, make sure your children see you calm and not anxious.

You do not need to fake this feeling, if you are feeling anxious yourself, take time and seek help. Make some time to do things that help you relax and refuel the energy.

Remember, at Little Zak's, we are there for our community and willing to go the extra mile to ensure our families are staying safe. We will do our part to ensure we are not leaving children in a state of distress at our childcare centres.

We will talk to you if we feel that your child is anxious by watching their body language, as well as other behavioural changes.