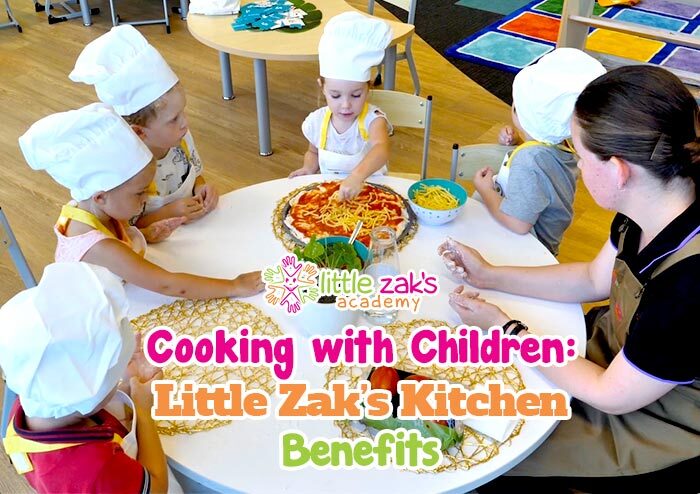 Cooking has many benefits for the little ones! It is a great way to get them engaged with acquiring basic skills and practice play-based learning by having some fun in the kitchen. This is why at Little Zak's Academy's various early learning centres across Sydney and New South Wales we have introduced Little Zak's Kitchen. At Little Zak's Kitchen, kids have fun experiencing meals creation, which enables them to practice basic math skills and build self-confidence, while also getting the healthy eating habits part of their lifestyles.
Our educators incorporate some fun activities in the kitchen such as sushi making, lamington preparation, pizza dough making, cupcake decoration and much more for the adventurous eaters. Kids love trying a new dish if they prepared it themselves, and creates the environment to discuss how healthy food can make the little ones grow.
How Cooking Can Benefit Children During Early Childhood
With the right expectations, cooking becomes a fun culinary adventure. Let us take a look at the benefits kids can obtain from Little Zak's Kitchen.
Acquiring New Skills
Cooking helps a child build basic skills, from simply getting the child to count the ingredients or portions, to pouring liquid into a measuring cup, our early learning educators will make it fun by getting the child to count and follow the steps on the recipe. This also helps enrich the vocabulary by introducing new words in a recipe as well as enhance the listening skills. The kitchen also helps children develop good hygiene.
New Meals
Young children are known to be very picky eaters, especially when they first join a childcare centre or are trying food away from home. But when children are cooking together with other children, this makes them keener to try a new dish since they participated in preparing it and triggers their curiosity to try what they have cooked. Encourage an adventurous palate.
Improved Senses
Cooking helps children explore with their senses, being in the kitchen exposes their senses by listening to different kitchen tools, touching, and mixing ingredients, watch food getting cooked or baked, starting to smell and taste the freshly prepared meals. Many childcare centres in Sydney are now following Little Zak's approach in introducing the kitchen as an extra-curricular activity in their programs, which is offered among many other complementary activities at Little Zak's Academy's childcare centres.
Promote Confidence
All children appreciate the sense of accomplishment that the small tasks in the kitchen can give them, which also boosts their self-confidence and gives them a sense of responsibility to clean up after themselves. This is especially true when they get the option to choose a name for their small dish.
At Little Zak's Academy, our kitchen activities are tailored to kids at different ages to give them little tasks that are well-suited to their ages and skill level so that they can enjoy while learning new tasks. Our kitchens are always safe and supervised by our educators.
Join Little Zak's Academy now and become part of our family, where children enjoy our play-based learning programs as well as our complimentary extra-curricular activities. Book a tour today.