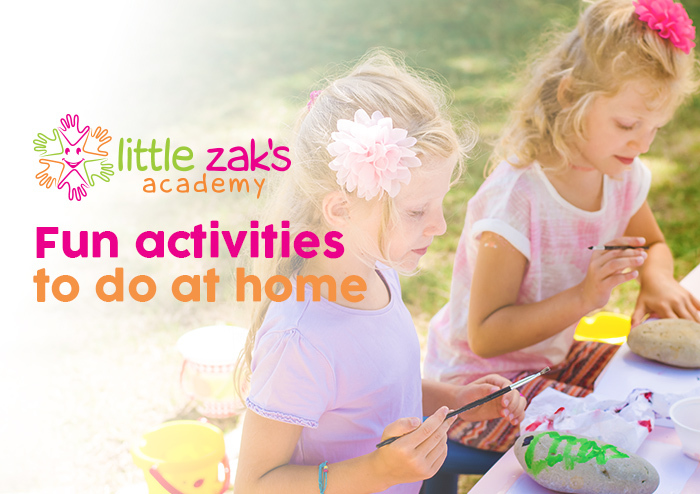 Lockdown living isn't always so relaxing when you've got young children to entertain. However, it's an excellent opportunity to spend quality time together and enjoy family activities.
We understand that activities seem to last only a few minutes and the cleaning up never ends! That's why our educators have curated a list of learning activities that your children can engage in at home to avoid screen time. Most of them can be set up using household items and don't require much preparation or cleaning!
Before we begin, our first suggestion is to schedule your day in advance! Children love routine and thrive on structure. This makes it much easier to keep their attention span. Make a mental note or physical list of the activities you'll be doing together and how that fits in with meal times, rest times, and chores, in advance.
Picnic in a new country:
This can be an indoor OR outdoor activity, pending weather and space. Choose a country and commit to dressing in the flag colours, preparing snacks to suit the cuisine and playing music that reflects their culture. You can even organise colouring or collage activities to create the flag, and practice saying "Hello", "Please", and "Thank you" in the language from that country!
The children may recognise the country you choose, as we educate them about cultures and places in the world in our language class, cooking class, and arts & crafts time!
Baking & Cooking: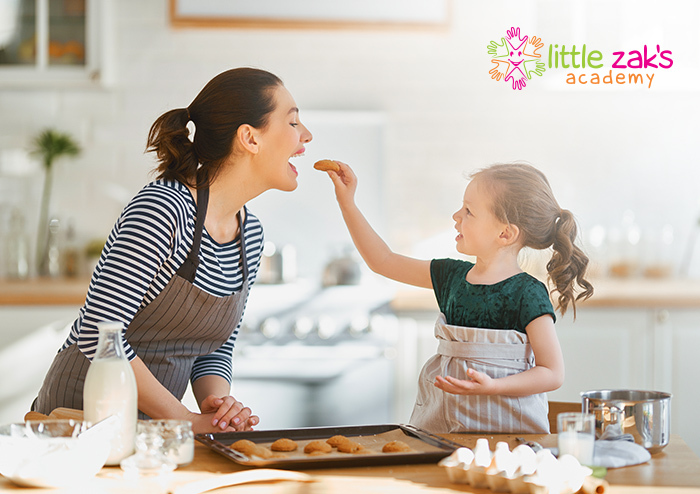 This can be a fun way to prepare a meal together. You can set them up with their own station and have them create the meal with you. Three-step recipes are always great:
Prep, measure, and mix
Bake or cook (and clean while this is happening)
Decorate or garnish
We've created child-friendly dishes at Little Zak's, including pizza, vegetarian sushi rolls, cupcakes, healthy pancakes, wraps, and sandwiches. This teaches them about healthy eating habits, nutrition, and how to clean up after themselves.
Build a magical place:
Similar to a fort, but with a little extra effort! You could even make a semi-permanent fixture in their bedroom or playroom for them to retreat to as a "safe space". Materials may include cardboard boxes, blankets, sheets, fairy lights, and pillows. You can read a book and relax together in the fort if space allows!
Make a Post-Box:
This can be done with (or for) the entire family! Using a cereal box, create a personalised post-box for each family member and keep them in a designated area. Then, take turns writing letters and drawings to leave in each other's post-box. Your children will love checking to see if they have received any mystery mail! Why not include an invitation to one of the fun activities you have lined up for later in the day?
Create musical instruments:
Music ignites all areas of children's development! It stimulates intellectual, motor, language and social-emotional abilities while being a creative outlet. You can try putting rice in recycled bottles, elastic bands over empty tissue boxes, and using pots, pans, and utensils to make music!
Outdoor scavenger hunt:
Time for an adventure! Make a list of items (natural or hidden by you) and give your child clues to help them locate the items. This can be done indoors if you don't have outdoor space, or in poor weather. Guide them through the list, focusing on one item at a time, using 'warm, hot, cold, colder' clues to help them. Make it easier by focusing on colours or having a 'collect all colours of the rainbow' scavenger hunt! They can help you tick the items off your list as they follow your clues!
Puppet show:
Create puppets out of old socks and toilet paper rolls, and prepare a puppet show! You can tell the story and encourage your child to act it out. Perhaps set up a tiny stage and show the family, or Zoom in friends, and make a big deal out of it! Bonus: they can play with the puppets on their own time as well, or you can grow the puppet collection for weekly puppet nights!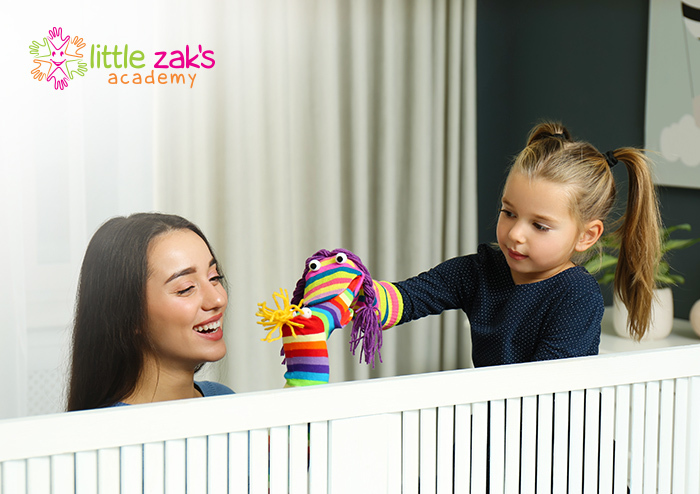 Free Play:
Allocate time for 'free play' and allow your child to engage in an activity of their choice, developing their imagination and independence. They may chose building blocks, running around the back garden, playing with a bucket and mud, or playing with their toys. It is a time that children can express their emotions and feelings, which is critical to their development.
One for you, one for me:
A perfect activity to teach sharing. Simply set out a pile of objects (like buttons, stones, or crayons) and have your child distribute them evenly between the two of you, saying 'one for you, one for me' each time an item is added to the piles.
Painting pebbles:
Great for as a creative outlet in nature. Children can draw the design and colour them in, or paint directly onto the pebbles. A fun one is to create ladybugs by painting the stones all red, then add the black dots once dry. It will add lovely features to your garden or can be passed on to the neighbours as gifts!
Make a sensory bin:
Fill a bin with everything and anything! It can be made with sand, mud, dirt, water, rice, pasta – your choice! All they will need is a container, and they will be excavating for hours! But before your child starts utilising the sensory bin, show them how to use it. Demonstrate scooping your mixture into buckets to explore the contents. We would recommend not starting with something messy and giving them a large area to play.
If you want to learn more about sensory play, head to our blog post on fun ideas you can create at home to help your child learn through sensory exploration.
The right games can boost your children's cognitive, physical and emotional skills, plus it is a great way to spend time 'entertaining' them.
If you have any questions or want more tips, don't hesitate to reach out to your local childcare centre's team!