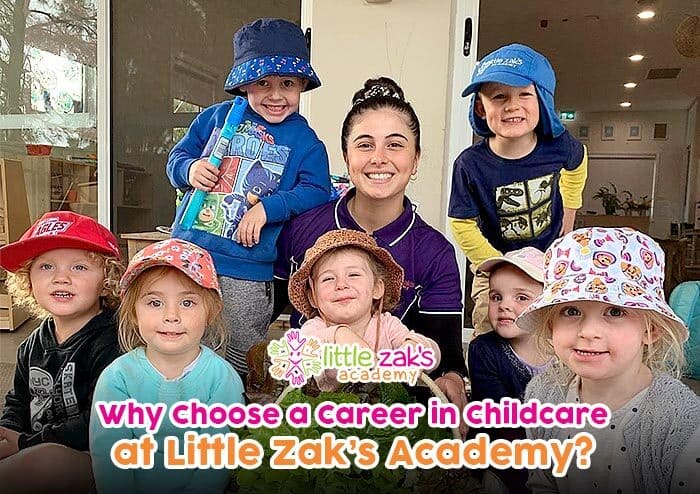 Looking after kids and toddlers in the first 6 years of their lives helps shape who they will become as they grow which is an extremely fulfilling phase for parents as well as those who work in early learning centres. Childcare educators and workers in early learning centres do not just provide safe and nurturing environments for the children, but also security, safety and quality education to the little ones. 
With our expanding network of childcare centres in Sydney and NSW, we are always looking for reliable childcare professionals to become part of the growing Little Zak's family. We understand that quality childcare providers are the foundation of us becoming the leading childcare provider in Sydney and NSW, providing the best childcare centres that parents can rely on and trust.
Here are some of the reasons to consider joining our team:
Fun environment

Spending time with children brings joy and positive vibes to the educators' lives. Not only is it fulfilling to see how excited kids are when they learn something new, but being part of a nurturing organisation and a family-owned and operated business can bring the best out of educators and help them develop in a healthy environment.
Career pathway

Working with one of the best childcare centres in Sydney and NSW can open a lot of diverse opportunities within the group. As we continue to expand, new opportunities become available for hire internally. This is especially true since Little Zak's provides a career development program as we love nothing more than seeing our employees following a path of progression that gets them exactly to where they envision themselves to be.
Competitive remuneration

Working at Little Zak's means a stable source of income since our family-owned childcare is well established. We only choose staff that are dedicated professionals who value the importance of maintaining an optimum level of care and education for all children and are well rewarded with competitive remuneration and packages.
Flexible working hours

As we select our staff based on knowledge and values, vision for children and learning, and commitment to families, we understand that many of our staff enjoy the flexibility that the industry offers. This allows them to work on flexible terms, which is especially true for workers with children who want to spend more time and look after their small families.
Sharing knowledge and experienceBeing a part of supporting new parents and seeing how happy they are with the quality of care and education brings an unmatched sense of joy. Our passion continues to increase whenever parents call to express how happy they are for what their children have learnt at Little Zak's.
If you are looking to join a leading childcare centre in Sydney, check our latest job vacancies at Little Zak's or register to join our upcoming free recruitment days.